The natural beauty of Vietnam has always been the center of attraction for tourists. A large number of people come here every year from all over the world. Among the natural beauty, a man-made bridge here has become the subject of curiosity for people due to its special and unique style. The golden bridge is at the top of the visitor's list of visitors who come to Vietnam.
This bridge in Vietnam is known as Golden Bridge. It is popularly known as Cau-Vang among the locals. The beauty of this bridge is that the bridge is hinged on two huge handmade hands which are very exciting to see. This bridge offers a unique sample of architecture and craft.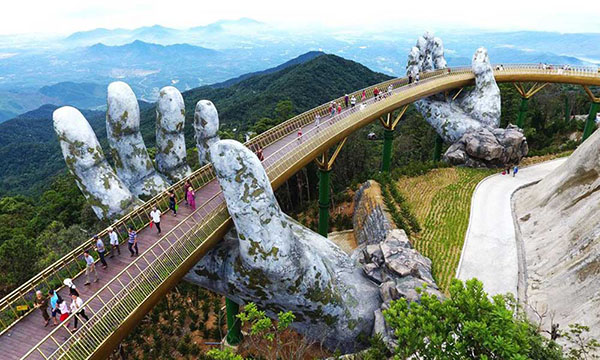 The Cau-Vang Bridge has been inaugurated in June 2018, which has been named the Golden Bridge. This bridge is located at an altitude of 1400 meters above sea level. In a short time, the bridge has reached the top of the visitor's visit list.
People like it with its design and views from here. It gives an amazing feeling when people stand on this bridge and also fills it with enthusiasm. When people look at it from a distance, it seems that it is trying to touch the sky with a huge band of two large hands raised by a stretch of road.
To enhance the beauty of this bridge, Lobelia chrysanthemum flowers have been planted on both sides of it. Those are decorating the beauty of the Golden Bridge.
Once you see it, your eyes will definitely stop and you will go to Vietnam to see it again and again. So if you get a chance in the future, then you will definitely come back to this place in Vietnam.
Read in Hindi:-
गोल्डन ब्रिज- दुनिया का सबसे अनोखा पुल, जो टिका है हाथों पर!