Singapore has 9 beautiful gardens. In these gardens, there are 30 thousand plants of 150 species which attract everyone's heart. In these gardens, walking among the fragrance of colorful flowers, everybody gets a feeling of walking in the fairy garden. "Gardens by the Bay" has spread over 101 acres in Singapore which can attract anyone with their beautiful views. This place is prepared by putting the soil into the sea. The Flower Dome is also located, which is the largest glass greenhouse in the world. It has very beautiful flowers from many continents of Africa, America and Asia.
Exhibitions of flowers: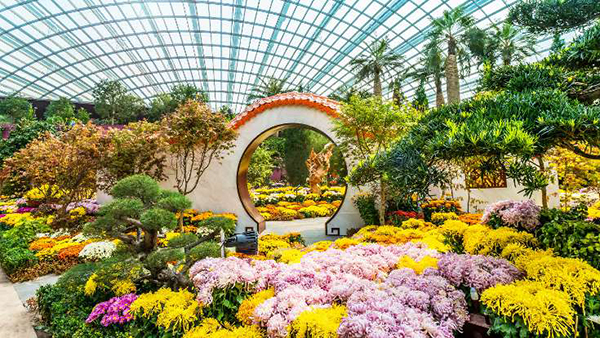 Every year, from 16 March to 8 April, the Cherry Blossom Exhibition is organized during which Cherry-flora of pink colors are seen. You can see closely the Japanese themed things like T-House, Rickshaw, Tory Gates etc. while touring the flower-chaired cherry blossom route. The whole atmosphere seems to be Japanese, and then it is the big doll who is wearing Japanese traditional costume kimono and looks very beautiful.
Garden of Magical Burrows: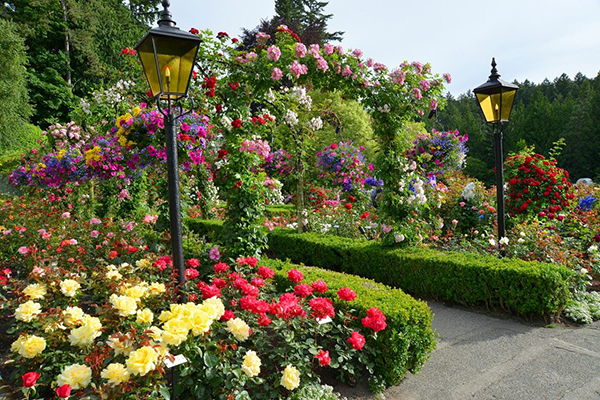 The beauty of the Tulip flowers in different colors in this garden seems very amazing. The "Tulip Monia" exhibition is organized from 13 April to 13 May in this garden. For this, the garden is decorated exclusively with colorful eggs, toys and, rabbits. Begonia flowers were presented in a creative way in the exhibition of flowers called "Begonia Brilliance" between May 25 and July 1. This exhibition was inspired by the environmentally friendly architecture this time.
Cloud forest: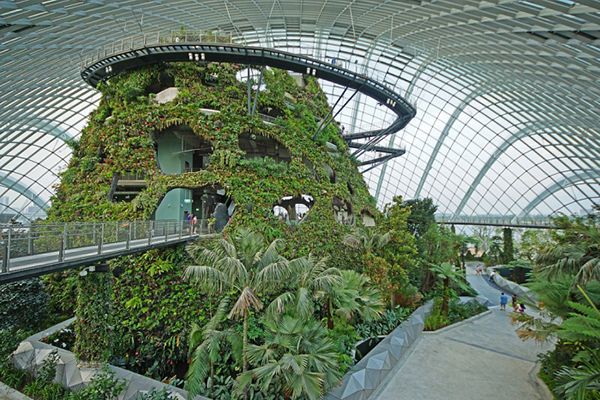 Some new ambitions await you in the 'Cloud Forward' located in "Gardens by the Bay". Fog and 60 thousand plants seem like a mysterious world. This is where you will see the highest "Indoor Waterfall" of the world, in which water falls from 35 meters high. While trekking near this spring, you can see a breathtaking view of the soft winds and this waterfall. From 'cloud walk' to exciting adventures like 'tree top walk', it entices everyone.
Cloud for Theaters and Galleries: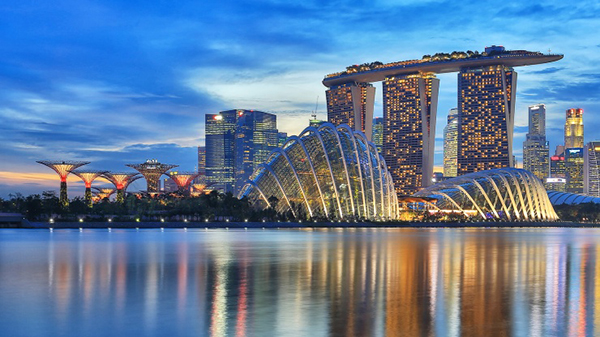 Here you can learn about climate change, affecting the world by watching movies such as "Green World" and +5 Degrees. There is also an art gallery where there are different types of graphics, diagrams, and artworks etc. which show a lot about the environment of the earth and the animals.
Supertree and Skyway: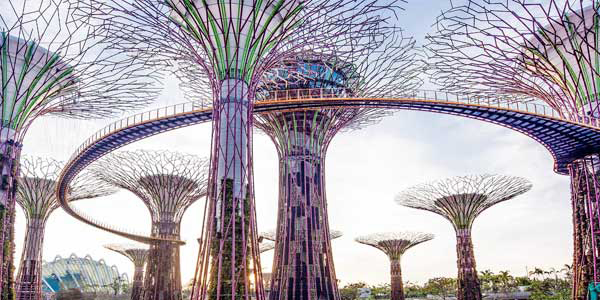 Different types of plants have been planted in huge towers, which makes every tower look like a huge tree. In all, more than one and a half lakh species of 200 plants have been planted. There is also a skyway built on these tree-shaped towers. From here, there is a spectacular view of the Marina Bay, which is found in the garden. After damping the evening, Singapore is covered with lights. In these openings, a Light and Sound Show is organized at 7.45 to 8.45 hours, people come here to enjoy.
Apart from all these "Gardens by the Bay" is full of attractions. In this place with cold, broad Mediterranean climate, there is a different feeling while strolling among the ancient olive groves for thousands of years. In the "Secret Garden," you can see the limestone forests and the diverse habitat of caves. There is also some rare begonia.
Read in Hindi:-